Sudin SH


CORPORATE SECRETARY
Indonesian citizen, 52 years old. He serves as Corporate Secretary of the Company since November 24, 2011 and re-appointed for the next period of 5 (five) years pursuant to the Resolution of Board of Directors dated November 12, 2021.
Currently he did not has any double position in other Public Company. At present, he also serves as the Head of Legal Department of Sinarmas Mining (2007-present).
Previously, he held several positions, such as Senior Legal Manager of PT Batamindo Investment Cakrawala (2003-2007), Senior Legal Officer of Salim Group (1997-2003) and Associate Lawyer in Dermawan & Co. Law Firm (1996-1997). He has graduated from the Faculty of Law, Universitas Indonesia in 1995 and Post-Graduate Program of Universitas Pelita Harapan in 2005.
Mr. Sudin SH is not affiliated with any member of the Board of Commissioners and Board of Directors, nor with the Majority and Controlling Shareholders of the Company.
In 2021, the Company's Corporate Secretary attended various trainings related to GCG material, the latest laws and regulations, especially in capital market sector, mining, finance, and management held by the Indonesia Corporate Secretary Association (ICSA), Association of Indonesian Issuers (AEI), Indonesia Stock Exchange, Financial Services Authority, and Indonesian Institute for Corporate Director (IICD).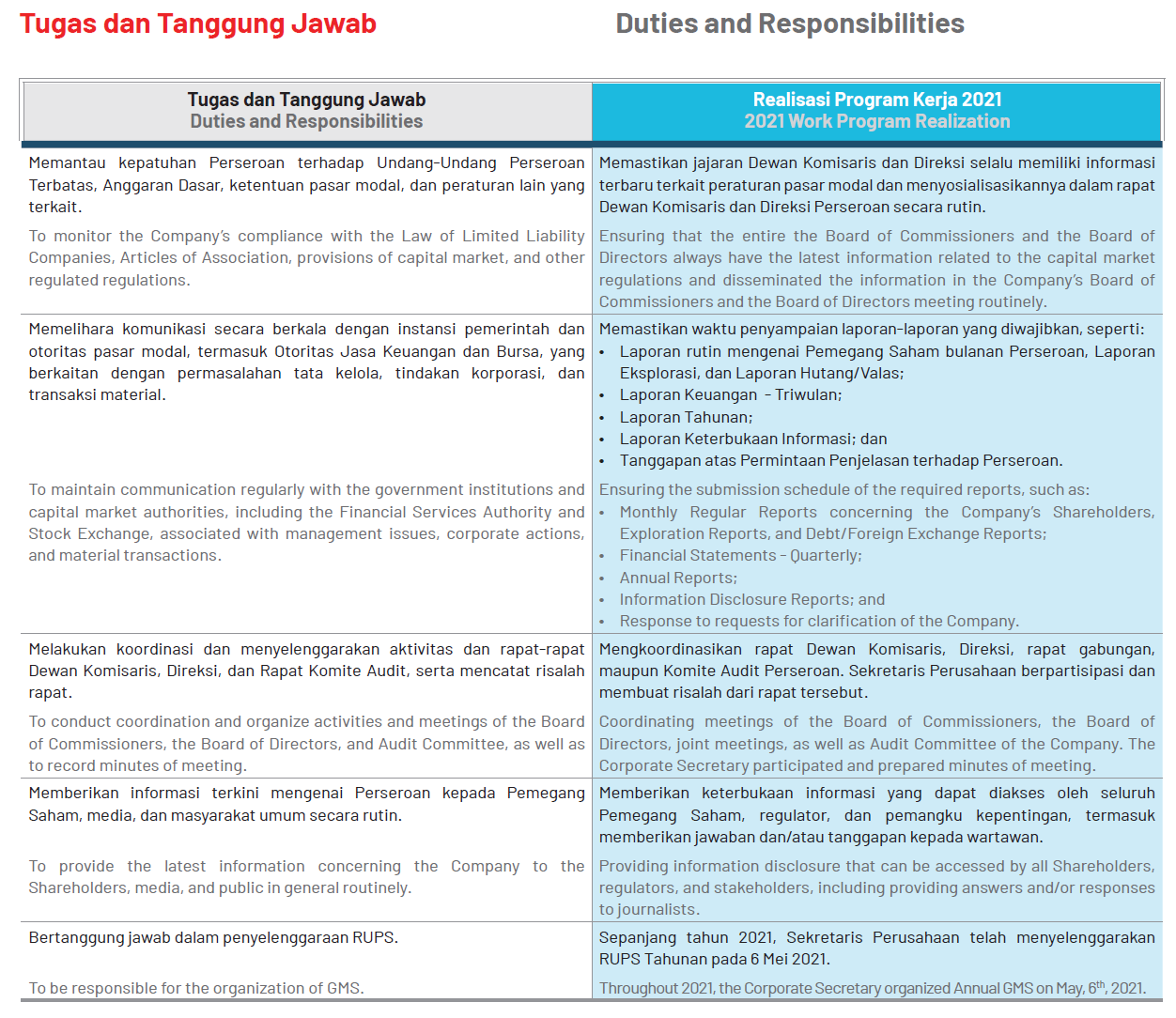 SK Direksi Perseroan, 12 November 2021 – Pengangkatan Periode Ke-3 Sekretaris Perusahaan Perseroan